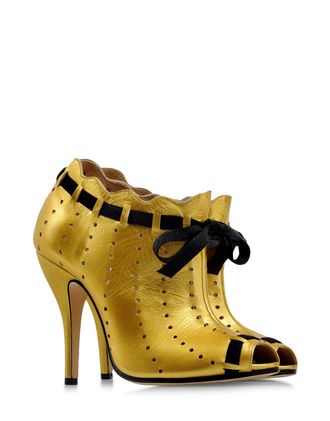 $ 985.00
69.74619289340101
$ 298.00
Zoraide's golden bootie takes its name from the muse it was inspired by – Princess Sofia Odescalchi, modern-day royalty coming from a historic and extraordinary lineage. One of shoescribe.com's exclusive Special Edition styles for the Holidays, this shoe is elegant and sexy, but with the air of another epoch.
Laminated effect
Open toe
Perforated detailing
Fabric Embellishments
Leather sole
Covered spike heel
Composition: 
Leather
Heel height
:
4.3 inches
Made In Italy
Product code: 44483150em
Zoraide shoes, produced with precious materials and unique leathers, are dedicated to women who search perfection, exclusivity and comfortable luxury.
They are kept in ad-hoc designed boxes which include a booklet designed by Chris Price and Delisia Howard, certifying them as true works of art. Zoraide is a project by Paola Bay, collector of contemporary art and haute couture, a Milanese who has lived in London, Paris and New York, a cinema producer, fashion consultant and now designer.